Cornell's Varsity Rowing Team, 1911
World War II propaganda posters in Port Washington, New York, on July 8, 1942
"Girls deliver ice." September 16, 1918
Flippin' Burgers, 1938
18 year old Russian girl being liberated from Dachau, April 29, 1945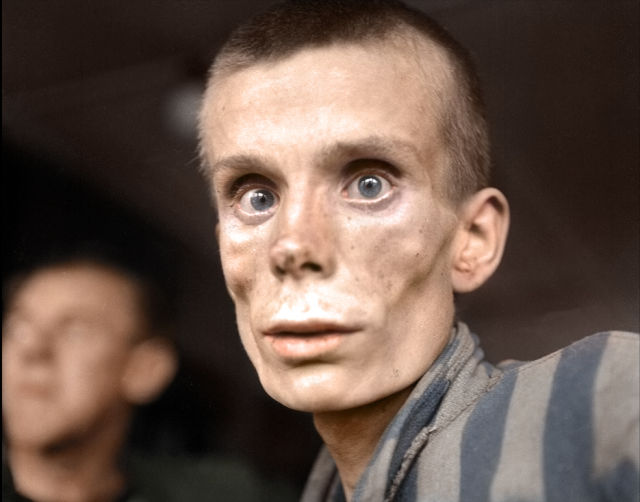 Easter Eggs for Hitler, 1944-45
Eureka Colorado (unknown date, late 1800s)
Claude Monet, French Impressionist painter, ca. 1923
Helen Keller meeting Charlie Chaplin in 1919
The Jersey Shore circa 1905. "Boardwalk at Asbury Park."
Louis Armstrong practicing in the dressing room, ca. July 1946
President Lincoln meeting with General 'Little Mac' McClellan in the General's tent at Antietam in the wake of his controversial decisions, September 1862
Civil War veterans at Gettysburg anniversary: A Union veteran and a Confederate veteran shake hands at the Assembly Tent, 1913
Little Rock, AR protest against the integration of 9 black students into a white school. 1959
Auto Wreck in Washington D.C, 1921
President Ulysses S. Grant & Family at their Long Branch, N.J. vacation house, 1870
Marilyn Monroe photographed by Richard Avedon in 1957 without her 'signature smile'
Unemployed lumber worker, ca. 1939
A Civil Rights demonstration in the 60s, an african-american woman stares down a man donning the Confederate flag on his hard-hat, Bob Adelman photograph
'Old Gold', Country store, 1939
American G.I.'s from the First Army hunt German paratroopers dropped during the Battle of the Bulge somwhere in Belgium, Dec. 18, 1944
Baseball legend "Babe" Ruth, ca. 1920, the year he joined the New York Yankees
Forest City Landing, Peaks Island to Portland, Maine, 1910
Japanese Archers c.1860
Filling Station: 1924, Washington, DC
Lou Gehrig, July 4, 1939. "I may have had a tough break, but I have an awful lot to live for." Diagnosed with ALS, he would pass away two years later.
Sergeant George Camblair practicing with a gas mask in a smokescreen. Fort Belvoir, Virginia, 1942
Moving blocks, Egypt, 5 March 1907
Louis & Lucille Armstrong, Cairo, 1961
Main Street – Littleton, New Hampshire circa 1908
Farmer reading his farm paper – Coryell County, Texas, September 1931
British troops cheerfully board their train for the first stage of their trip to the western front – England, September 20, 1939
General Eisenhower and Bradley sharing a laugh in a Normandy orchard, sometime after Operation Overlord, 1944
Daughter of a resettled farmer, 1935
Newsies enjoying a well earned smoke break, 1910
Albert Einstein, 1921
Tufts University baseball team studio portrait, 1890
Operation Overlord: D-Day, The 6th of June 1944
Malcolm X chats with Muhammad Ali – New York 1963
Loading comments...